x
Thank you for submitting an inquiry. We will get back to you as soon as we can.
Uganda Wildlife and chimpanzee Safari
Uganda Wildlife and chimpanzee Safari
Uganda Wildlife and chimpanzees Safari 12 days itinerary:
Discover the wildlife of Uganda through Murchison Falls National Park, Kibale Forest National Park, Queen Elizabeth & Lake Mburo National Park
Day 1: Arrival in Uganda
Arrival into Uganda and pick up from the Entebbe international airport.
Day 2: Transfer to Murchison Falls
Check out from your Hotel either in Kampala or Entebbe for an amazing drive to Murchison falls National Park. Before you get to Murchison Falls park, you will have a stop at the Ziwa Rhino sanctuary to trek the Rhinos. Once in the park, you will carry out an evening game drive it time allows.
Day 3: Tour of Murchison Falls National Park
Wake up to an early morning Game drive in the park giving you the opportunity to site Lions, Elephants, Buffalos and many other animals hidden away in the beauty of Nature. In the afternoon proceed for a boat trip on the gorgeous Victoria Nile with an opportunity to view Hippos, Crocodiles and a number of bird species such as the Shoe Bills. You can't miss taking pictures of the Murchison Falls where the Nile from 50 metres squeezes through a 6 metre gorge falling 40 metres with a thunderous roar.
End the day with a hike to the Top of the falls giving you an opportunity to see the Multi Colored rainbow created by the Falls
Day 4: Transfer to Kibale National Park
Set off for Kibale National Park early in the morning after breakfast which approximately takes you 6 hours with stops in various markets and communities to mingle with the locals. Check into the accommodation. ( Half board- breakfast & Dinner)
Day 5: Chimpanzee tracking
In the morning, you will gather at the UWA offices for a briefing before tracking of the Chimpanzees. The Chimp tracking takes approximately 2 – 3 hours depending on the location of the chimps. Later in the afternoon carry out a community to visiting the local herbs man and taking part in activities such as cow milking, local coffee processing and local brew making.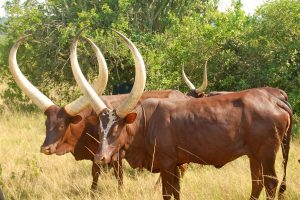 Day 6: Transfer to Queen Elizabeth National Park.
After breakfast, you will start with your journey to Queen Elizabeth National Park amazing journey taking you through local communities and beautiful sceneries.
Day 7: Tour of Queen Elizabeth NP
It boasts of one of the highest biodiversity ratings of any game park or reserve in the world. Located on the floor of the Albertine Rift Valley south west of Kasese, its vegetation comprises of savannah, acacia, euphorbia trees and large papyrus swamps. A number of over 100 mammal species and 500 bird species make this territory and great tourist destination. The maramagambo forest houses a large selection of monkeys and birds with flamingos on the crater lakes while the Ishasha region is a home for the tree climbing lions.
The morning Game drive provide excellent opportunity to see lions, elephants, Leopards, Topi and many other animals. Later take part in the boat trip on the Mweya Peninsula along the Kazinga channel where you will see crocodiles, hippos and birds that inhabit the Shoeline. (Full board – All meals)
Day 8 Visit to the salt lakes and community tours.
The salt lake tour takes approximately 3 – 4 hours depending on the strength of the clients. The tour takes you through the traditional salt lakes where you see how the locals mine salt from the famous Lake Katwe, visit to the flamingo crater and the old salt factory. Later in the afternoon, take part in the Kasoga community tour . ( Full board)
Day 9 Transfer to Kampala/ Entebbe
Check out of the hotel and head back to Entebbe/ Kampala for overnight.
Day 10 Transfer to Jinja the adventure capital of Uganda
After breakfast, you will make your way to Jinja roughly 80 kms from Kampala for an adventure packed day doing activities such as rafting on River Nile, Kayaking, Nile cruises and bungee jumping for those who can stand this horrific jump. Our package includes a Nile Cruise Only, Extra activities such as bungee jumping , rafting, Kayaking ,will be paid for personally.
Day 11 Kampala City tour & Night life
In the afternoon, head for a Kampala city tour to visit historical places such as museums, cathedrals and mosques. Visit the local markets to experience the organized chaos there and later at night hit any hang out places to experience how Ugandans have fun at night.
Day 12. Departure
Transfer to Entebbe International Airport for flight back home carrying memories about Uganda along with you.
We are sorry, there are no reviews yet for this tour.
