x
Thank you for submitting an inquiry. We will get back to you as soon as we can.
Papaya Lake Lodge Kibale
Papaya Lake Lodge Kibale
Papaya Lake Lodge is considered to be both Mid- Range and luxury accommodation found on the rims of the beautiful magical crater lakes (Lyantonde and Kifuruka lakes in western Uganda Close to Kibale National Park. The lodge is set outside the park in the perfect base Chimpanzees Tracking and surrounded By the lush green landscape overlooking the majestic Rwenzori Range. The lodge is convenient for tourists, travellers and holiday makers who want to explore and discover the three national parks in Uganda namely; Semiliki , Mt Rwenzori and Queen Elizabeth national park with the beautiful views. You can be at the lodge by road transport from Kampala/Entebbe which takes approximately 5-6 hour's drive and an hour to fly from Entebbe international airport to Kasese airstrip then hours to be transferred to the lodge
Papaya lake lodge consists of 9 elegant and comfortable cottages including one Villa positioned on the slopes of the crater overlooking the breathtaking views reflecting African traditional style with natural materials with thatches structure, stones and timbers.
Papaya Lake Lodge
Cottages are well elevated with raised wooden platform decorated and furnished with en- suite private facilities of clean flushing Toilets, bathroom with hot and cold showers, comfortable beds that are wrapped with mosquito nets , chairs, free toiletries, complementary bottled water in the rooms , white pillows and duvets ,wooden tables and many more. Cottages have large sitting areas , terraces and wooden private balconies overlooking the Lush green landscape and lakes. Cottages varies in different sizes with single beds for individuals , double beds for friends or couples, twin, and villa bedroom for family or group with different costs ranging from 300$ per night and above . Rates vary depending on seasons, during peak season the rate always go high than low season.
Papaya lake lodge offers different facilities and services which include; On-site restaurant that serves delicious types of Menu WITH culinary traditional from all corners of the world and international meals that meets guests appetite. You will enjoy all the home made dishes filled with fruits and vegetables making papaya's Cuisine unique. You will have Continental / buffet breakfast in the rooms , lunch and a 3 course dinner in the main building served by well trained , organized staff and skilled chef .
Papaya Lake Lodge Outdoor swimming pool that cools off the hot afternoon especially after tracking , you relax in the water while overlooking the spectacular view of the forest , distant snow capped mount Rwenzori and surrounding areas.
Services include; Free parking space available, lobby area offered , Laundry and house-keeping services available, airport pick -ups and drop offs offered , massage services offered , honey moon packages are offered.
WIFI hot spot internet is available at the lodge that enables visitors to keep in touch with their families and friends.
Activities to do while at the lodge includes; birding /bird watching as you listen to the sound of the whispering birds in the village, Chimpanzee tracking since Kibale is the home of chimpanzees, Hiking/ climbing Mount Rwenzori , natural walks in forest and many more
Papaya's craft shop has hand craft gifts that includes clothes , shoes, baskets etc Kibale Forest national park is situated on the foothills of Mount Rwenzori, 65 km south of fort portal tourism city in Western Uganda covering the total area of 766 square kilo metres . The park is basically the best destination for primate viewing and birding. It is the home of various chimpanzee over 1500 in kibale and in the whole world its about 5000 chimpanzees, with over 13 primate species, few mammals and over 300 species of birds which include; Sun birds, bee –eaters , sunbirds, Tawny Eagles , Grey headed kingfisher , Yellow-billed hornbill and many more birds.
Chimpanzee tracking and habituation is the famous tourist activity in Kibale national park since it's the home of Various Primates. One has to be having a chimpanzee permit in order to track which cost 200$ non foreign resident, 200$ foreign residents and Ugandans its 150,000/=, Habituation is 250$ non foreign residents. There are more accommodation options to stay in while in Kibale Forest national park; budget, Mid range (moderate) and luxury accommodations which are friendly and affordable to visitors visiting the park.
Papaya Lake Lodge
There are different activities to do while in Kibale national park include; Chimpanzee tracking experience since the lodge is close to the forest and the park has more chimpanzees, chimpanzee habituation, Birding/bird watching in kibale, as you enjoy the whispering sound of birds in the forest since the park has many different bird species, visiting bigodi swamp , cultural experience from the local village tribe like Traditional dance and food, Nature walks in the park , golden monkey tracking , mountain biking and climbing , visiting the crater lake like kyaninga and many other activities.
Kibale Forest National Park, Chimpanzee park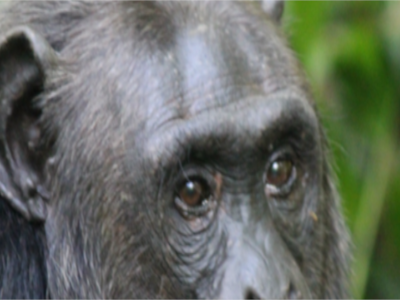 Kibale Forest National Park
Kibale Forest National Park contains one of the loveliest and most varied tracts of tropical forests in Uganda. Forest cover interspersed with patches of grassland and swamp, dominates the northern and central parts of the park elevated plateau. It covers an area of 795 square kilometres. The park is home to a total of 70 mammal species, most famously 13 species of primates including the Chimpanzees. It also contains over 375 bird species. Kibale adjoins Queen Elizabeth National Park to the south to create a 180 kn long corridor for wildlife between Ishasha, the remote southern sector of Queen Elizabeth National Park, and Sebitoli in the north of Kibale National Park.
The Kibale-Fort Portal area is one of Uganda's most rewarding destinations to visit. It lies close to the Ndali-Kasenda crater area and within half a day's drive to Queen Elizabeth, Rwenzori Mountains and Semuliki National Park as well as the Toro-Semliki Wildlife Reserve.
Kibale is one of Africa's foremost research sites. There are several research centres in the park like the Ngogo and Kanyawara research centres for chimpanzees. While many researchers focus on chimpanzees and other primates found in the park, others are investigating Kibale's Eco Systems, wild pigs and fish species among other topics.
Activities in Kibale Forest
Chimpanzee Tracking
Chimpanzee Tracking in Kibale Forest is the main activity. It lasts for 2 to 3 hours and start from Kanyanchu interpretation centre at 8:00 and 15:00 hours daily. Success rates are 90%. The tracking is easy going by comparison with the Kyambura gorge or even Mahale, definitely it is a lot easier than Gorilla Trekking.
Chimpanzee Habituation Experience
In addition to the short chimp treks, full day chimpanzee habituation experiences is available for about US$250. This entails most of the day's tracking with researchers and habituators from about 5:30 am to 19:00 hours when the chimps got to sleep. This activity though is only available on selected month of March, April, May and November. This is exceptionally good value for people with a real interest for chimps and the forest!
In addition to chimps, Kibale Forest is home to the following Primates; dwarf bush baby, easter needle bush baby, bosman's potto, dwarf galago, black and white colobus, red colobus monkey, red-tailed guenon, lhoesti or mountain guenon, vervet monkey, grey cheeked mangabey and olive baboon.
Night Walks in the forest - Start at Kanyanchu and run from 20:00 - 22:00 hours, aimed at sighting nocturnal primates especially potto and bush baby.
Bigodi Wetland Sanctuary
This is a community run initiative that protects the Magombe swamp. It is good for primates and butterflies but the 4.5 km trail is one of the best guided bird trails in East Africa. Local guides are especially good, keen birders. The swamp is home to 138 bird species.
Ndali - Kasenda Crater Lakes
Western Uganda from Albertine Rift to Rwenzoris and Virunga mountains has one of the world's densest concentration of volcanic crater lakes. There are 4 main groups of these crater lakes: Crater lake in kibale Kasenda cluster west of Kibale, Katwe cluster not far from Mweya Lodge in Queen Elizabeth NP; Fortportal cluster to the north and Bunyaruguru cluster south East of Queen Elizabeth NP.
The Kasenda cluster is the most extensive and easily accessible from Kibale. These lakes offer lots of possibilities for exploration with verdant bush, great landscapes and lots of birds and butterflies and other wildlife. Ndali lodge is probably the best spot from which to explore the lakes and surroundings.
---
Read more
