x
Thank you for submitting an inquiry. We will get back to you as soon as we can.
Flying Safari gorillas and Masai Mara
Flying Safari gorillas and Masai Mara
6 Days Flying Safari gorilla trekking and Masai Mara detailed itinerary:
Day 1: Fly to Bwindi Impenetrable national park.
Depart to Entebbe airport for your flight to Bwindi. Aerolink operates two scheduled daily flights to Bwindi at 07:45am and 12:45pm so you can which flight you wish to take depending on availability. Flights to Bwindi land in Kihihi airstrip.
Upon arrival at Entebbe airstrip, a member of staff will assist you through check-in for your scheduled domestic flight to Kihihi airstrip in Bwindi national park. As you land at Kihihi, your driver / guide will be waiting to transfer you to the lodge where you will unwind. Dinner and
overnight stay at Buhoma Haven lodge for mid-range/Buhoma Community Rest Camp for budget option/Mahogany Springs Lodge
Day 2: Gorilla trekking experience – Batwa community tour
Have breakfast and transfer to the park offices for briefing about Mountain Gorilla trekking by the ranger guide. The time taken is usually between 2-8 hours depending on the movement of the gorillas. Meeting the gorillas unexpectedly is one of the most captivating lifetime experiences. You will have a chance to observe and take pictures at very close range.
You will observe adults feeding and groaning among themselves. After an hour with the long-awaited gorillas, your guide and rangers will lead you back to the starting point where your driver will readily be waiting to transfer you back to the lodge for a restful evening or spend your afternoon on a Batwa community tour around the park. Dinner overnight stay at lodge as above
Day 3: Fly back to Entebbe – Masai Mara national reserve
Have breakfast, drive back to the airstrip for your 7 am flight back to Entebbe airport. Thereafter connect for your flight to Masai Mara national reserve. Aero-link operates daily flights from Entebbe to Masai Mara. Flight to Masai Mara depart Entebbe airport at 12:15 and arrive in Masai Mara at 14:30 hours.
Upon arrival at one of the allocated airstrips in Masai Mara, you will be met by your Kenya safari guide to transfer to your reserved lodge for relaxation, dinner and overnight stay at Zebra Plains Lodge for mid-range/AA Lodges Mara for budget option/Mara Simba Lodge for mid-range
Day 4: Full day game drive in Masai Mara
Wake up early in the morning, have breakfast and grab your packed lunch and meet your safari driver to head to the plains of Masai Mara for a full day adventure in this stunning savanna vegetation of Masai Mara as you watch many animals in large numbers such as lions, elephants, cheetahs, leopards, wildebeests, zebras and many more. You will enjoy your picnic lunch and proceed for a game drive till the sun goes down. In the evening you will head back to your lodge, have dinner and stay overnight at Zebra Plain Lodge/AA lodges as above.
Day 5: Another day game drive in Masai Mara
After breakfast, you will head to the plains of the reserve for the final morning game drive sighting more animals, after the game drive you will head back to your lodge for lunch and in the afternoon you will head to the Masai village/Masai Loita Hills for a cultural experience. On this experience, you will enjoy getting a deeper insight into the Masai culture by interacting with the local Masai people, be entertained by local dancers, drama and Masai warriors; buy local Masai items such as local Masai Shukas, beautifully made accessories such as necklaces and earrings and taste local cuisines. After the experience, you will head back to your lodge, have dinner and stay overnight at the lodge as above
Day 6: Transfer back to Nairobi for departures
After morning breakfast at your lodge, you will checkout of your lodge and embark on a journey back to Nairobi where you will be dropped off at your own booked hotel as you advise.
End 6 Days Flying Safari gorilla trekking and Masai Mara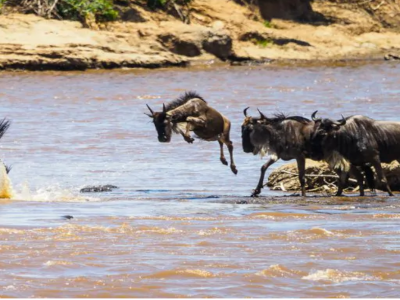 WHY VISIT MAASAI MARA GAME RESERVE?
 THE MAASAI MARA NATIONAL PARK IS THE MOST FAMOUS SAFARI PARK IN KENYA.
THIS BEAUTIFUL RESERVE IS HOME TO THE GREAT MIGRATION AND BOASTS 1,500 SQUARE KILOMETRES OF ENDLESS PLAINS, OFFERING VIEWINGS OF BIG 5 ANIMALS AND STUNNING BIRDLIFE.
THIS IS A PERFECT SAFARI EXPERIENCE FOR FIRST-TIME AND OLD HANDS ALIKE, A MUST-SEE FOR ANYONE VISITING!
We are sorry, there are no reviews yet for this tour.
