x
Thank you for submitting an inquiry. We will get back to you as soon as we can.
Keije Resort Lake Bunyonyi
Keije Resort Lake Bunyonyi
Keije Resort Lake Bunyonyi is a 3-star mid-range accommodation found on the shores of Lake Bunyonyi in the south western part of Uganda close to Bwindi Impenetrable national park the home of Mountain Gorillas and 9km from Kabale town. Keije is a rukiga word meaning a greeting in the state of joyous welcome. The resort is in a perfect base and convenient to travellers, tourists and holiday makers for relaxation and safari adventure overlooking the beautiful views of the lake and surrounding landscape. It takes approximately 6-7 hour drive (450kmsquared) from Kampala to the lodge by road via masaka -kabale and 1 hrs flight from Entebbe to Kihihi airstrip by Aerolink when using air transport, Kihihi and Kisoro airstrips are the closest airstrips . it also takes about 1-2 hours' drive from Kigali to the resort.
Keije resort Bunyonyi consists of 12 spacious and comfortable cottage raised on a wooden deck reflecting the African building traditional style with natural materials of local woods and grass thatched roofs. All cottages are well elevated on a raised platform, decorated and furnished with private en suite facilities with flushing toilets ,mosquito nets, bathroom with hot and cold showers, white duvets, complementary bottled water, free toiletries and many more facilities.
Keije Resort Bunyonyi
All cottages are well equipped with comfortable queen poster beds with clean and washed beddings. Rooms have wooden private balconies, large sitting areas and verandas overlooking the beautiful breathtaking views of lake and surrounding Highlands. Rooms are in different categories and sizes with single beds for individuals, double beds, Twin, Triple and family room options with different rates ranging from 200$ per night and above.
Keije resort Bunyonyi offers more services and facilities which include;
A restaurant that serves different delicious Menus both local and international meal that meets guests appetite. They offer breakfast, lunch and dinner served by well trained and organized staff . You can have meals in any place of your choice either in the dining area or lake shores overlooking the beautiful views and enjoying the morning sunrises especially Morning Breakfast.
A well -stocked bar with a shared lounge offering Variety of drink both hard and soft drinks, you relax with a sundowner that winds up the evening overlooking the stunning view of the lake and surrounding area.
Services includes; Free parking space, Laundry and house- keeping services available, pick- ups and drop-offs, solar energy available,
Wifi internet hotspot available at the lodge that enables visitors to keep in touch with their families and friends.
Recreational activities to do at the lodge Include; boating trips on the lake, swimming, zip lining , hiking , trekking since bwindi national park is close to the resort, sport fishing, canoeing, visiting all the islands especially Bucuranuka, hand craft made gifts and many others.
Lake Bunyonyi is the best place to visit found in south western part of Uganda between Kisoro and Kabale town near the border of Rwanda. Lake Bunyonyi is 25km long and 7km Wide with a maximum depth of 900 meters that made it to be considered as the forth deepest lake in Africa . There are different activities to do while in lake Bunyonyi which include; bird watching while at the lodge , nature walks in local villages and mountain climbing and hiking since the place is surrounded by many highland, swimming at lake bunyonyi, boating at the lake, biking, Cultural tours in the local villages, canoeing, you can also do golden monkey tracking in Mgahinga , Gorilla trekking experience in bwindi national park and many more activities.
Keije Resort Bunyonyi
Lake bunyonyi has over 29 islands like Bushara island, Akampene island, Kyahungye, Bwama and Bucuranuka islands and surrounded by few terraced hillside. Lake bunyonyi is the place of many little birds. The lake was formed 10,000 years ago through the process of formation as a result of lava flow that emerged from one of the Virunga mountains and managed to occupy Ndego river.
Lake Bunyonyi has different accommodation like; budget, mid-range and luxury accommodation which are affordable and convenient to guests visiting Bunyonyi The lake is free from Birlharzia and safe for swimming with fantastic breathtaking and great view to visitors.
Lake Bunyonyi Uganda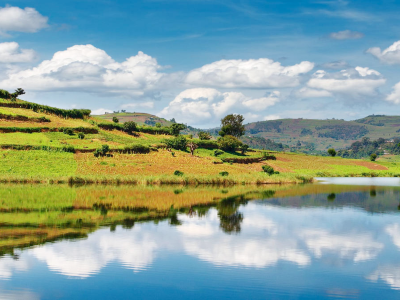 Lake Bunyonyi Uganda
Located in southern Uganda, Lake Bunyonyi is said to be the second deepest lake in Africa. Home to a variety of water birds, Lake Bunyonyi is known as the 'place of little birds'. This spectacularly scenic lake is dotted with magical, mystical, misty islands and surrounded by verdant, undulating, terraced hillsides. It is a popular stop off on the way to the famed gorillas and unlike many lakes in East Africa, it is croc, hippo and bilharzia free.
Highlights include camping on one of the islands, the epic scenery, swimming in the lake's crystal clear waters, bird watching, canoeing, and hiking.
---
Read more
