x
Thank you for submitting an inquiry. We will get back to you as soon as we can.
Primate Lodge in Kibale
Primate Lodge accommodation in Kibale Forest
Primate Lodge is the closest lodge to the Kanyanchu chimpanzee tracking trailhead in Kibale National Park. The lodge is located inside the National Park, giving guests prime access to exhilarating forest activities, including the captivating Chimpanzee Habituation Experience. It's exciting for most guests that book this lodge because they get to experience sleeping in premium comfort among primates, age-old trees, and forest wildlife and wake up to the natural bird's sound and primate calls.
Kibale is commonly known as the easiest forest in the world to watch primates. It is referred to as Africa's primate capital because it protects the highest concentration of primate species in the world. Some of the forest's inhabitants have been habituated for human presence, allowing travelers to experience walking in the jungle with chimpanzees' troops. Primate Lodge is in the center of all the jungle action.
Primate Lodge's rustic style affords beautiful views of the dense ethereal rainforest and is quietly secluded, offering an authentic experience. The main open lounge area features comfortable armchairs and sofas, making it a lovely spot to unwind after a day in the forest while listening to the red-tailed monkeys in the surrounding trees. Fires are lit on cool evenings, creating a cozy atmosphere, while colorful traditional dance performances give you a real insight into the local culture. However, the highlight of any stay here is the jungle hikes to track and spot chimpanzees in their natural setting.
Accommodation at Primate Lodge
Primate Lodge Kibale has 17 Rooms divided into two categories: 9 Luxury Cottages and 7 Standard Cottages that can be with either single, twin beds.
All accommodation has a private veranda and en suite bathroom with flush toilet and hot water at certain times of the day. They offer queen-sized beds, large windows, and African-style décor, including local stone, bamboo, and paintings.
The lodge's Forest Cottages have a homely feel and spaced apart to ensure privacy and uninterrupted forest views. They feature twin beds and a sitting area and are decorated with local artwork.
A ten-minute walk away is the Sky Tree House, where adventurous guests can stay up in a tree overlooking the elephant wallow.
Meals are served in a spacious open dining room, made of both international and African cuisines. There's also a bar next to the restaurant where guests can enjoy various alcoholic and non-alcoholic beverages, including coffee, while taking in views of the surrounding forest.
Amenities:
Laundry Services
En-suite bathrooms
Evening Camp Fires
Cultural Performances
Wi-Fi Available
Restaurant & Bar
Daily housekeeping
Mosquito net
Activities:
After a quick 5 minute walk to the trailhead, guests can join guided chimpanzee hikes from Kanyanchu Park Headquarters into the forest jungle, searching for the chicky chimp bands. Usually, the chimpanzee tracking walks last 2-3 hours and are restrictive to eight people. The experience of viewing wild chimps up close can be incredible, but it has to be said that here in Kibale, the chances of really intimate.
Bird lovers will be interested to know that there are 325 species of birds recorded in the national park. The list includes the six species endemic to the Albertine Rift region, like the black-capped Apalis, collared Apalis, purple-breasted sunbirds, blue-headed sunbirds, dusky crimson wings, and red-faced woodland warblers.
There are some lovely walks in the area, including the walk in the small Bigodi Wetland Sanctuary in hopes of meeting more primates in the east of the park. A network of trails in Sebitoli Forest provides further opportunities for viewing various primates and birds on the forest's northern side.
Amabere ga Nyina Mwiru Caves is a renowned cave system located near Fort Portal, around 15km from Kibale Forest, and is considered to be one of the seven wonders of Uganda and great to visit.
Kibale Forest National Park, Chimpanzee park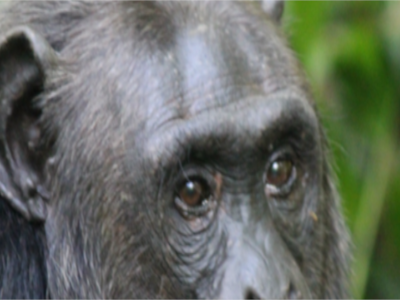 Kibale Forest National Park
Kibale Forest National Park contains one of the loveliest and most varied tracts of tropical forests in Uganda. Forest cover interspersed with patches of grassland and swamp, dominates the northern and central parts of the park elevated plateau. It covers an area of 795 square kilometres. The park is home to a total of 70 mammal species, most famously 13 species of primates including the Chimpanzees. It also contains over 375 bird species. Kibale adjoins Queen Elizabeth National Park to the south to create a 180 kn long corridor for wildlife between Ishasha, the remote southern sector of Queen Elizabeth National Park, and Sebitoli in the north of Kibale National Park.
The Kibale-Fort Portal area is one of Uganda's most rewarding destinations to visit. It lies close to the Ndali-Kasenda crater area and within half a day's drive to Queen Elizabeth, Rwenzori Mountains and Semuliki National Park as well as the Toro-Semliki Wildlife Reserve.
Kibale is one of Africa's foremost research sites. There are several research centres in the park like the Ngogo and Kanyawara research centres for chimpanzees. While many researchers focus on chimpanzees and other primates found in the park, others are investigating Kibale's Eco Systems, wild pigs and fish species among other topics.
Activities in Kibale Forest
Chimpanzee Tracking
Chimpanzee Tracking in Kibale Forest is the main activity. It lasts for 2 to 3 hours and start from Kanyanchu interpretation centre at 8:00 and 15:00 hours daily. Success rates are 90%. The tracking is easy going by comparison with the Kyambura gorge or even Mahale, definitely it is a lot easier than Gorilla Trekking.
Chimpanzee Habituation Experience
In addition to the short chimp treks, full day chimpanzee habituation experiences is available for about US$250. This entails most of the day's tracking with researchers and habituators from about 5:30 am to 19:00 hours when the chimps got to sleep. This activity though is only available on selected month of March, April, May and November. This is exceptionally good value for people with a real interest for chimps and the forest!
In addition to chimps, Kibale Forest is home to the following Primates; dwarf bush baby, easter needle bush baby, bosman's potto, dwarf galago, black and white colobus, red colobus monkey, red-tailed guenon, lhoesti or mountain guenon, vervet monkey, grey cheeked mangabey and olive baboon.
Night Walks in the forest - Start at Kanyanchu and run from 20:00 - 22:00 hours, aimed at sighting nocturnal primates especially potto and bush baby.
Bigodi Wetland Sanctuary
This is a community run initiative that protects the Magombe swamp. It is good for primates and butterflies but the 4.5 km trail is one of the best guided bird trails in East Africa. Local guides are especially good, keen birders. The swamp is home to 138 bird species.
Ndali - Kasenda Crater Lakes
Western Uganda from Albertine Rift to Rwenzoris and Virunga mountains has one of the world's densest concentration of volcanic crater lakes. There are 4 main groups of these crater lakes: Crater lake in kibale Kasenda cluster west of Kibale, Katwe cluster not far from Mweya Lodge in Queen Elizabeth NP; Fortportal cluster to the north and Bunyaruguru cluster south East of Queen Elizabeth NP.
The Kasenda cluster is the most extensive and easily accessible from Kibale. These lakes offer lots of possibilities for exploration with verdant bush, great landscapes and lots of birds and butterflies and other wildlife. Ndali lodge is probably the best spot from which to explore the lakes and surroundings.
---
Read more
