Chimpanzee Tracking in Uganda
Chimpanzee Tracking in Uganda | Where to Track chimpanzee 
Uganda has one of the largest populations of eastern chimpanzee, estimated to be about 5000 individuals. The large populations of about over 1500 chimps in Uganda are found in Kibale forest national park while the rest are distributed in Budongo forest reserve (over 1000 chimps) and in Kyambura gorge and Kalinzu forest reserves.
With several chimpanzee groups have been habituated mostly in kibale forest national park as well as bugondo forest, kyambura gorge and kalinzu, Uganda presents the best opportunities for tourists to see chimpanzees in the wild. Chimpanzee tracking is therefore the second most popular activities for visitors on Uganda safaris after gorilla tracking.
Chimpanzee tracking is a magical experience where visitors on Uganda safari track and experience up-close encounters with habituated chimpanzee groups for 1 hour or full day. Chimpanzee share 98% of their genes with humans and they are our closest relatives thus chimp tracking allows visitors to learn about chimpanzee behavior and social structure from the expert Uganda wildlife authority guides.
Of the four places, Kibale forest national park is the main destination for chimpanzee tracking in Uganda because it has many chimps that are habituated than other places. In addition, chimpanzee tracking can also be done at Budongo forest found within Murchison falls conservation area and in kyambura gorge and kalinzu forest found within Queen Elizabeth national park.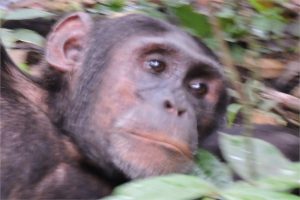 Chimpanzee tracking is available all year round but the dry season from June to September and December to February has several advantages. The forest trails are dry and easier to navigate on foot, though the chimps tend to move around so much.
Chimpanzee tracking in kibale forest national park
Kibale forest is the best for chimpanzee tracking in Uganda with over 1500 chimpanzees including several communities that are habituate for tourists to track. All visitors can track chimps except for children under 25 years of age. The park has better accommodation for luxury travelers and a wide range for budget too. And the chimp tracking permits are affordable at $200 for foreign non-residents.
Known as the primate capital of the world, kibale forest national park boasts the highest concentration of primates in Africa. Besides the chimpanzees, there are 12 species of primates inhabiting kibale forest national park. Visitors to kibale can trek into the forest to view chimpanzees, as well as spot other primates such as red colobus monkey, grey checked mangabay, blue monkey, black and white colobus monkey, olive baboon, L'hoest monkey among others.
Kibale is located in western Uganda about 358 km (6 hour drive) from Kampala. This ease of accessibility makes it easier to undertake a 2 days chimpanzee tracking safari in kibale forest national park. You just leave Kampala/ Entebbe early morning and travel to kibale, then the second day track chimps and return back. Although, visitors can add Queen Elizabeth national for game drives and boat cruises in their itinerary.
Chimpanzee tracking in Budongo forest / Kaniyo Pabidi
Budongo forest reserve is located within Murchison falls national park, the largest conservation area in Uganda. Budongo is home to over 900 chimps including two groups which are habituated for tracking. It offers affordable chimpanzee tracking with a chimp permit. Chimp treks at Budongo forest can be done in the morning and afternoon with chances of seeing chimpanzees up to 80%. Budongo forest is easy to access, located only 4 hours- drive from Kampala, the capital of Uganda.
This makes it easier to plan one day chimpanzee tracking safari to Budongo forest. Though, there's only one Budongo eco-lodge. Other accommodations can be found in south bank of Murchison falls.
For those who have more than 3 days, Budongo is easily combined with game drives and boat cruises on the Nile in Murchison falls national park plus rhino trekking experience on foot with rangers at ziwa rhino sanctuary.
Chimpanzee tracking in Kyambura gorge and kalinzu forest
For those in Queen Elizabeth national park, there are two options for chimpanzee tracking. Kalinzu forest and kyambura gorge are found within Queen Elizabeth national park, Uganda's most visited park. Kyambura gore is a topical forest patched 100 meters underneath the rift valley escarpments drained by river kyambura. It's known as the valley of apes and home to chimpanzees and various species of primates. One group of chimps has been habituate allowing for chimp treks.
Chances of seeing chimps are like 50% due to the presence of only 1 chimp group, it can sometimes move across the river making it difficult to access. However walking through the thick forested gorge in search of chimpanzees is an exciting experience and also provides opportunity to spot birds, hippos and crocodiles along the banks of river kyambura. Kyambura gorge is just 30 minute drive from Mweya tourist center of Queen Elizabeth national park.
Kalinzu forest reserve is accessible by 1 hour drive from Mweya visitor center. Despite its small area and being isolated, kalinzu forest has high density of chimps and there are two groups which are habituated allowing for chimpanzee tracking. Unlike kyambura, kalinzu forest reserve delivers 90% chance of seeing chimpanzees.
Grassland chimpanzee tracking in Toro-Semuliki wildlife reserve
Toro-Semuliki wildlife reserve provides an opportunity for tracking chimpanzees in the savannahs. The reserve is located next to Semuliki national park which an extension of the great ituri Congo basin rainforest. Though, chimps live in the forest, there's a high chance to spot them in the savannah grasslands with less forest cover.