Ngamba Island Sanctuary
VISIT NGAMBA ISLAND:
The Chimpanzee Sanctuary and Wildlife Conservation Trust of Ngamba Island.
Ngamba Island is 23 km located offshore of Lake Victoria from Entebbe Uganda. Ngamba Island is almost 100 acres in size and hosts over 50 different types of vegetation that Chimps eat in addition to the supplementary feeding provided by the sanctuary. The Ngamba Island is a safe home for rescued orphaned chimpanzees. Ngamba Island in the record that chimpanzees are closest relatives sharing about 98.5% of man's DNA. These chimpanzees are released every morning from the holding facility to explore their environment foraging for food in the forest.
The feeding is supplemented daily with fruits and vegetables. While feeding, visitors are invited to get involved in this activity and also do photography where you're asked to stand at the viewing platforms and give food to the Chimpanzees. After early breakfast in your area of accommodation, the All Gorilla trips guide will transfer you to Entebbe Pier where you will take a boat. The speed boat will take about 45 minutes to the island. On arrival for the 1 Day Ngamba Chimpanzee Tour, you'll be given an orientation talk at the reception thereafter you'll be given an orientation talk at the reception thereafter you'll be guided to the viewing platform to see and visit the Chimpanzees during their supplementary feeding times by your guide.
Things To Do In Ngamba Islands.
During your visit, you will experience: Ngamba Chimpanzee Tour viewing and feeding, shopping at the island gift shop, bird watching, experiencing other wildlife encounters, swimming on the equator, visiting a neighboring fishing village, or simply sunbathing and relaxing.
Visitors can also 'get their hands dirty by being part of the feeding team. This is an opportunity for you to feed the chimpanzees from the platform. On top of being able to feed your favorite chimp, you will also watch as the chimps excitedly try and gain your attention to receive food (this activity is subject to management exclusion and policies).
Additionally, you can enjoy the fresh lunches prepared on-site. Please note, packed lunches and drinks to the island are prohibited, prompted by the difficulty of controlling litter associated with the personal items. The ban seeks to enforce Chimpanzee Trust's Environmental Management Policy and System, in place since the founding of Ngamba Island Sanctuary in 1998.
NGAMBA ISLAND TRIP TIMING
Morning viewing between 9.00 am – 1.00 pm
Afternoon viewing 12.45pm – 5.00pm
WHAT TO BRING FOR NGAMBA TOUR
Unfortunately no accommodations were found.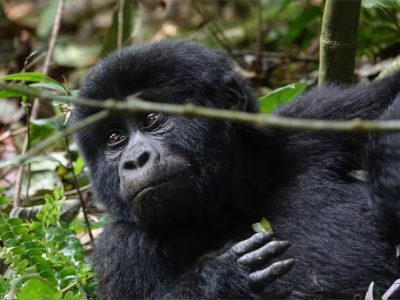 Embark on a fantastic great apes adventure!
Great Apes Uganda Trip, a Uganda holiday trip including Gorilla Tracking, Ngamba Islands, Kibale Forest chimp trek, Queen Elizabeth and Walking Safari in Lake Mburo to see Wildlife up-close, launch cruise on the Kazinga Channel and a safari walk.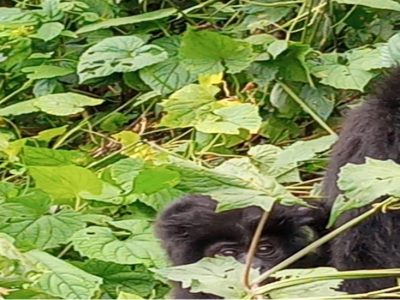 On this Classic Uganda and Rwanda Gorilla trip, you will forge your way through rainforests gorilla trekking for a rewarding discovery of these highly endangered apes, the Mountain Gorillas and Chimpanzees.
