Kalinzu Forest
Kalinzu Forest is located in south western part of Uganda at the edges of Queen Elizabeth national park Uganda's famous and most visited protected area. Kalinzu forest is managed and own by the government of Uganda (National forest authority/NFA).
The forest is famous for chimpanzee trekking, however it other primates species as well as bird species. Kalinzu Forest is located near Queen Elizabeth Park and chimpanzee trekking activity is extremely amazing in this forest. You can visit Kalinzu Forest Reserve for a day trip by hiking various trails in search of primates within the reserve.
There are 4 hiking trails in Kalinzu forest reserve and hiking takes 1 – 6, it can even take entire day depending on one's time schedule and the purpose of the visit to the area.
Apart from chimpanzee tracking the major activity in the forest, there area, there are other tourists activities practiced within the area like: Hiking, nature walk, birding, and primate viewing.
The Forest is home to more than 414species of trees, bushes and in this timberland, one can also discover 379 types of birds which makes it the birders haven, the common bird species including the Great Blue Turaco of the Rwenzoria Mountains, Black and White Cascket, Cuckoos and Sunbirds.
There are 6 Species of Primates spotted within Kalinzu Forest Reserve for instance the Blue Monkeys, Vervet Monkeys, Black and White Colobus Monkeys and Chimpanzees commonest primates viewed and highly demanded activity is chimpanzee trekking. There are 220 Chimpanzees, out of the 220, at least 70 chimpanzees have been habituated to make used to human thus enabling awesome chimp tracking activity at Kalinzu Forest Reserve.
The forest reserve is also home to 262 Butterflies, 97 Moths, many forest Reptiles and Flowers, all these species can be seen while on your day chimpanzee tracking safari
Hike up the Kishunja Hill Viewpoint and you will be able to observe the whole Forest Canopy, incredible parts of the Queen Elizabeth National Park and a few Peaks of the Rwenzori Mountains. Kalinzu Forest is close to Queen Kalinzu Forest reserve and Chimpanzee Tracking in Queen Elizabeth National Park at Kyambura gorge commonly reffered as the valley of apes is awesome at the gorge
Chaimpanzee at Kalinzu Forest Reserve are likely to move from Kyambura gorge forest to Kalinzu forest and then back with prior notice. There are moments when Leopards, pronghorns, and wild pigs can spotted within the forest reserve.
There are 4 distinctive guided forest trails, for example the trail along River Kajojo, where you will see different sort of trees along the nature walk. While in the forest expect weather unnoticed changes meaning it can rain abruptly, so carry rain gars and other weather protective measurements. Regardless of whether you take the valley trail, waterfall trail or the Palm trail you will make the most of your chance here at Kalinzu Forest Reserve.
The destination can be reached by road from Kampala via Mbarara to Bushenyi as you continue to Queen Elizabeth National park. Also the place can be accessible by air transport. Land at Kasese air strip and later transfer to Kalinzu forest reserve for your day activities.
Unfortunately no accommodations were found.
A great Africa Photography Safari
The 18 Days photography Safari Uganda is Specifically for photographers who intend to get the best Gorilla and Chimpanzee pictures on a Uganda tour. This special Africa Photography safari will guarantee you the best photographs in the specific sites visited, as some activities are handled exclusively to meet the photographers needs.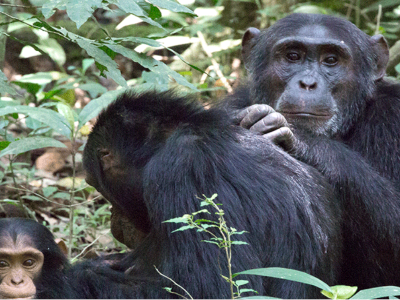 Your Ultimate Africa Adventure Holiday
See Africa's 'big four' on this 5-day adventure, go to the home of half the world's mountain gorilla population, go on game drives through QE National Park to see hippos, elephants, and tree-climbing lions, and finally trek through a kaleidoscope of wildlife and nature in the Kalinzu Forest to track chimpanzees.
