Mgahinga Gorilla National Park
Mgahinga Gorilla National Park
Established in 1991, Mgahinga Gorilla national park features among Uganda most exceptional national parks that you should consider visiting during your next vacation in Uganda and Africa at large. The park covers an area of about 33.7 square kilometers making it the smallest protected in Uganda. Its establishment was mainly to offer refuge to most of its dense forests, mountain gorillas, the rare golden monkeys, bird species and many more.
Mgahinga Gorilla National Park
About 80 rare mountain gorillas call this park their home and only one group is habituated and ready for visitors to track each day. Mgahinga Gorilla National Park lies at altitude of about 2.227m and 4.127m, south western Uganda. Besides, the park also features 3 (three) of the eight Virunga Mountain ranges (Sabyinyo, Gahinga and Muhabura). These mighty Virunga volcanoes stretch up to the Virunga Volcano range of the East Central Africa, Albertine rift in Rwanda, Democratic Republic of Congo and the Uganda border.
Mgahinga National Park is popular for its thick vegetation, a reason why the area is one of the most rainfall catchment destinations in the country with several crater lakes on the mount Muhabura and swamp crater on the mount Gahinga summit as well as amazing swamps that lie within the 3 volcanoes. The park is also surrounded by the Batwa pygmies-the famous forest dwellers who are believed to have stayed in the jungles for over 500.000 years and left without any effect.
Getting to Mgahinga Gorilla National Park
Mgahinga National Park can be reached by road or air.
By road, you will take the Kampala, Kabale, Kisoro and you will spend about 8 to 10 hours' drive. For visitors who will opt for air means of transportation, you can fly from Entebbe international airport or Kajjansi and then land into Kisoro airstrip. From here, connect to your lodge / hotel or to the park by road, less than an hour drive.
Access from Kigali – Rwanda
Instead of driving for 10 hours from Kampala, some visitors fly to Kigali International Airport and cross to Mgahinga National park through Cyanika boarder crossing and this is less than 4 hr drive. This route has become very popular ever since the price of Rwanda gorilla permits doubled to USD1500 per person. Mgahinga Gorilla Park now receives many guests especially for short trips like 1 day gorilla trip from Kigali or 2 day gorilla tour.
Where to stay in Mgahinga National Park?
Mount Gahinga Safari Lodge
While on safari to Mgahinga National Park, you will expect to spend a night in one of the most comfortable safari lodge that leaves a memory in you. The best accommodation facilities for you to spend night include mount Gahinga safari lodge in Ntebeko managed by Volcanoes Safaris; lake Mutanda chameleon hill lodge in Mutanda; Lake Chahafi Resort, Kisoro travelers rest hotel and river much hotel in Kisoro and many more.
Tourist activities in Mgahinga National Park
Mountain gorilla trekking
A visit to Mgahinga National Park rewards visitors with lifetime travel experiences in mountain gorilla tracking adventures. Mountain gorilla adventures in this park attract about 75% of the travelers from across the world mainly to strike their imaginations with these rare apes while in their natural habitat. In Uganda, Mgahinga National Park is the second gorilla destinations after Bwindi Impenetrable Forest National Park that you can pay a visit to track the gorillas. For interested visitors, you will track the Nyakagezi habituated gorilla group and your treks start from the Ntebeko entrance gate.
Nature walks/hiking adventures
Hiking adventures at Mgahinga National Park offer you a chance to hike through the thick forest to the Sabyinyo gorge that also features as the best site for birding safaris and interestingly, visitors can catch a glimpse at the Rwenzori Turaco. The hikes through this park last for about 4 hours through the Rugezi the popular spot for birding. The hikes also allow you to explore the transcending vegetation zones along the Congo borders where you will glace several calderas. Other incredible wildlife species for you to spot out include the rare golden monkeys at the Bamboo jungle.
Birding safaris in Mgahinga
If you love birding, Mgahinga Gorilla National Park is undeniably one of the birders paradises that you shouldn't miss to pay a visit. The most popular birding area is mostly the gorge trail between the Sabyinyo and the Gahinga. Visitors on birding adventures in Mgahinga National Park reward visitor with spectacular views of the Dusky turtle dove, cape robin chat, black headed waxbill, streaky seed-eater, blue headed sun bird, regal sun bird and others.
Volcano climbing
Mgahinga National Park refuges all the 3 mighty Virunga Mountains and volcano climbing features among the safari highlights in the park especially on the summit of mount Sabyinyo about 3669 for 8 hours is such amazing adventure for you; you can as well do mountain climbing in mount Gahinga about 3474m and chance to glace swamps full of craters and giant lobelia. Most interestingly here is that you will glace the rare golden monkeys as they head to the Bamboo jungle or you can choose to climb mount Muhabura one of the highest peaks of about 4127m and experience a lot of clear scenic views of the lake Edward, Virunga volcanoes and the Bwindi Impenetrable Forest as well as the several peaks of the Rwenzori mountains.
Cultural encounters
After mountain gorilla adventures at the park, never miss to pay a visit to one of the cultural communities adjacent at the park and interact with the Batwa pygmies. There is Batwa trail, that takes you through cultural exploration with the Batwa the famous forest dwellers, hunters and gatherers to explore more about their ancient lifestyles. Your presence in the cave is such an incredible moment that you will never wish to leave but rather opt for yet another return to the destination.
Golden Monkey Tracking
The other incredible activity that you shouldn't miss out in this park is golden monkey tracking. Besides the rare mountain gorillas, Mgahinga National Park is also famous as one of the areas where silver meets gold due to its striking golden monkeys.
In conclusion therefore, Mgahinga Gorilla National Park is Uganda's smallest national park that rewards visitors with variety of natural wonders. The park features wide range of attractions right from primates, volcanoes to bird life.
Boat cruise, chimps, game, gorillas, mountain hike
On a Unique Uganda safari you will track the white Rhinos at the Ziwa Rhino Sanctuary, Enjoy a game drives, trek chimpanzees in Kibale forest, search for the tree climbing lions in Ishasha, trek golden monkeys in Mgahinga, Hike Muhabura or Sabinyo and crown the Unique safari with Gorilla Trekking adventure with time spent at leisure in Lake Bunyonyi.
Explore Uganda bird species with our Uganda Bird Watching Tour 10 days
Explore Uganda bird species with our Uganda Bird Watching Tour 10 days.  This Uganda Bird Watching tour will take TO Botanical garden Entebbe on day of arrival if you arrive early, Lake Mburo game Park, Mount Sabinyo, Lake Chahafi, Mubwindi Swamp, Queen Elizabeth Park, and Kibale forest Park.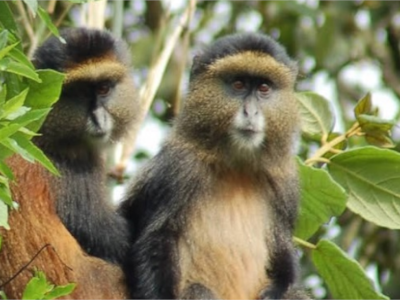 Gorilla Tracking in Bwindi and Golden Monkey tracking in Mgahinga
4 Days Uganda Gorillas & Golden Monkeys Tour will start in Kampala or Kigali in Rwanda and end in Kigali or Entebbe. The trip will take you to Uganda's two Gorilla parks, Bwindi Impenetrable National Park and Mgahinga Gorilla National park for gorilla tracking and trek the endangered golden monkey
