Mabamba Swamp
Mabamba swamp also known as Mabamba wetland and sometimes refered to an Island is the convenient destination in Uganda that harbours the rare shoebills and a variety of bird species. The Mabamba Swamp is found in the western part of Entebbe on Lake Victoria the biggest and fresh water lake in Africa.
The bird watching activity on this wetland is mostly done in a canoe, where you navigate waterways comprising papyrus grass and lily pads along the swamp. The swamp is a habitat to many bird species among which include notable birds like the rare shoebills, papyrus yellow warbler, pallid harrier, blue swallow to mention but a few.
The shoebills are easily spotted very early in the morning when they stalk their main prey, the fish and small aquatic animals but still they can be spotted all day. They usually hide in the water weeds and stand absolutely still for long periods awaiting the movements of their prey.
How to get to Mabamba swamp?
By boat:
You can reach Mabamba by boat across Lake Victoria. This increases your spots on different bird species on Lake Victoria that you have missed and also gives you an opportunity to see other activities on Lake Victoria that is to say fishing activities and the fresh breath on the lake.
By road:
You can also drive either via Entebbe road or Masaka road. This takes you about 1hr and 20minutes
At the Island
A canoe ride through papyrus swamp will take you at the best view of spotting the Shoebills which usually hide in the water weeds to feed on the fish. A variety of other bird species to be spotteed include the African Jacana, Lesse Jacana, Blue reasted Bee eater, Common Moorhen, African Purple Swamphen, Swamp Flycatchers, African Water Rail, Saddle billed Stork, Squacco heron, African Pygime Goose, Malachite Kingfisher and White faced whistling duck and many more.
Unfortunately no accommodations were found.
Explore Uganda bird species with our Uganda Bird Watching Tour 10 days
Explore Uganda bird species with our Uganda Bird Watching Tour 10 days.  This Uganda Bird Watching tour will take TO Botanical garden Entebbe on day of arrival if you arrive early, Lake Mburo game Park, Mount Sabinyo, Lake Chahafi, Mubwindi Swamp, Queen Elizabeth Park, and Kibale forest Park.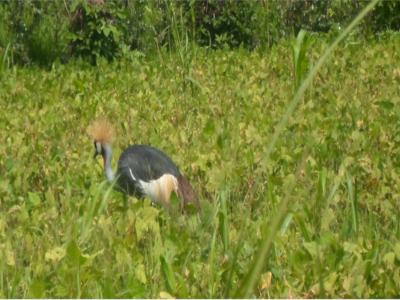 A Uganda Birding Safari like no other
Situated at the equator, Uganda enjoys a tropical climate with very little temperature variation throughout the year. If you are planning a trip to Uganda as a birder, the main factor determining your timing will be a pattern of rainfall. In the southern part of the country, the wettest month is April with the rainy season stretching from April to May and October to November. The wet season in the North is from April to October with the rest of the year fairly dry with low humidity. Whilst travelling might be easier in the dry season, bear in mind the fact that bird activity is much higher during the wetter months when most of the breeding takes place.
Birds that may be seen - The birds listed below are birds that occur along the route at various times of the year. As with any trip, one cannot guarantee that every bird mentioned will be seen.
