x
Thank you for submitting an inquiry. We will get back to you as soon as we can.
Turaco Treetops Lodge
Turaco Treetops Lodge Kibale Forest
Turaco Treetops is a lush semi-luxury lodge on the edge of Kibale National Park. The lodge sits under 5.2 hectares of rainforest, which creates a serene green environment for a perfect hideaway. It's got stunning views of the forest canopy, the massive Rwenzori mountains, and the creator lake decorated landscape of the region. If you're staying for a chimpanzee tracking adventure in Kibale, hiking around the area, or for a romantic getaway, Turaco Treetops is a suitable choice.
Some of the lodge visitors that hang around the lodge grounds include various bird species like the famous Great blue turaco (which inspires the lodge name), butterflies, monkeys, and primates like Bush Babies, Black and White Colobus monkeys.
Turaco's main building features a stylish restaurant, a lounge area with a cozy fireplace, a bar, an outside terrace, and a first-floor lounge with spectacular views over the forest. Enjoy a sumptuous meal, read a book, watch the butterflies and birds, play a game, or grab a drink and watch the sun setting behind Mount Stanley. Free WiFi and charging docks are available in the main building.
The lodge is family-friendly, offering kids an outdoor playground and an indoor kids' room in our main building. The pool on the premised also caters to children with a shallow end.
Accommodation at Turaco
Turaco Treetops has eight luxury cottages at secluded jungle locations on the property. The cabins are spacious, with large windows and outside wooden decks, providing splendid views over Kibale Forest. The cottages are designed to bring the outdoors inside and mix modernity with an 'African feel' using clean lines in combination with wood and other natural materials.
The lodge is expanding with eight more standard cottages that will be available in May 2021.
This lodge is COVID-19 compliant with facemask and hand sanitizing compulsory in public areas. Please read our policy on COVID-19 for this lodge.
Amenities
Laundry Services
En-suite bathrooms
Hot/Cold Water in bathrooms
Swimming Pool
Wi-Fi Available
Restaurant & Bar
Daily housekeeping
Mosquito net
Activities
After a 25-minute drive through the lush Fort Portal – Mbarara Highway, surrounded by the giant rainforest trees on both sides, to the trailhead, guests can join guided chimpanzee hikes from Kanyanchu Park Headquarters into the forest jungle, searching for the chicky chimp bands. Usually, the chimpanzee tracking walks last 2-3 hours and are restrictive to eight people. The experience of viewing wild chimps up close can be incredible and very, really intimate.
After your exciting encounter with chimpanzee troops, sunbathe or take a dip in the well-elevated pool with the most incredible view on the property. You can also take a guided walk around the crater lakes surrounding the property, visit a community, or chill back in the lodge's fresh, natural surroundings.
An evening sundowner with the Rwenzori views, sitting by the campfire under the stars, sharing stories of the day with fellow travelers, and listening to the sounds of elephants and chimpanzees from the forest below is perfect for a relaxing evening at the Lodge.
Bird lovers will be interested to know that there are 325 species of birds recorded in the national park. The list includes the six species endemic to the Albertine Rift region, like the black-capped Apalis, collared Apalis, purple-breasted sunbirds, blue-headed sunbirds, dusky crimson wings, and red-faced woodland warblers.
There are some lovely walks in the area, including the walk in the small Bigodi Wetland Sanctuary in hopes of meeting more primates in the east of the park. A network of trails in Sebitoli Forest provides further opportunities for viewing various primates and birds on the forest's northern side.
Amabere ga Nyina Mwiru Caves is a renowned cave system located near Fort Portal, around 15km from Kibale Forest, and is considered one of Uganda's seven wonders and great to visit.
Kibale Forest National Park, Chimpanzee park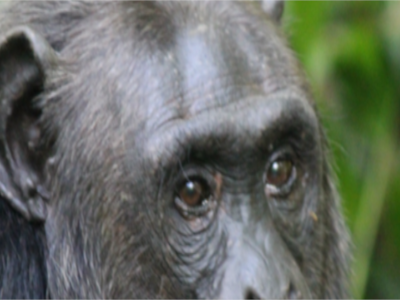 Kibale Forest National Park
Kibale Forest National Park contains one of the loveliest and most varied tracts of tropical forests in Uganda. Forest cover interspersed with patches of grassland and swamp, dominates the northern and central parts of the park elevated plateau. It covers an area of 795 square kilometres. The park is home to a total of 70 mammal species, most famously 13 species of primates including the Chimpanzees. It also contains over 375 bird species. Kibale adjoins Queen Elizabeth National Park to the south to create a 180 kn long corridor for wildlife between Ishasha, the remote southern sector of Queen Elizabeth National Park, and Sebitoli in the north of Kibale National Park.
The Kibale-Fort Portal area is one of Uganda's most rewarding destinations to visit. It lies close to the Ndali-Kasenda crater area and within half a day's drive to Queen Elizabeth, Rwenzori Mountains and Semuliki National Park as well as the Toro-Semliki Wildlife Reserve.
Kibale is one of Africa's foremost research sites. There are several research centres in the park like the Ngogo and Kanyawara research centres for chimpanzees. While many researchers focus on chimpanzees and other primates found in the park, others are investigating Kibale's Eco Systems, wild pigs and fish species among other topics.
Activities in Kibale Forest
Chimpanzee Tracking
Chimpanzee Tracking in Kibale Forest is the main activity. It lasts for 2 to 3 hours and start from Kanyanchu interpretation centre at 8:00 and 15:00 hours daily. Success rates are 90%. The tracking is easy going by comparison with the Kyambura gorge or even Mahale, definitely it is a lot easier than Gorilla Trekking.
Chimpanzee Habituation Experience
In addition to the short chimp treks, full day chimpanzee habituation experiences is available for about US$250. This entails most of the day's tracking with researchers and habituators from about 5:30 am to 19:00 hours when the chimps got to sleep. This activity though is only available on selected month of March, April, May and November. This is exceptionally good value for people with a real interest for chimps and the forest!
In addition to chimps, Kibale Forest is home to the following Primates; dwarf bush baby, easter needle bush baby, bosman's potto, dwarf galago, black and white colobus, red colobus monkey, red-tailed guenon, lhoesti or mountain guenon, vervet monkey, grey cheeked mangabey and olive baboon.
Night Walks in the forest - Start at Kanyanchu and run from 20:00 - 22:00 hours, aimed at sighting nocturnal primates especially potto and bush baby.
Bigodi Wetland Sanctuary
This is a community run initiative that protects the Magombe swamp. It is good for primates and butterflies but the 4.5 km trail is one of the best guided bird trails in East Africa. Local guides are especially good, keen birders. The swamp is home to 138 bird species.
Ndali - Kasenda Crater Lakes
Western Uganda from Albertine Rift to Rwenzoris and Virunga mountains has one of the world's densest concentration of volcanic crater lakes. There are 4 main groups of these crater lakes: Crater lake in kibale Kasenda cluster west of Kibale, Katwe cluster not far from Mweya Lodge in Queen Elizabeth NP; Fortportal cluster to the north and Bunyaruguru cluster south East of Queen Elizabeth NP.
The Kasenda cluster is the most extensive and easily accessible from Kibale. These lakes offer lots of possibilities for exploration with verdant bush, great landscapes and lots of birds and butterflies and other wildlife. Ndali lodge is probably the best spot from which to explore the lakes and surroundings.
---
Read more
