x
Thank you for submitting an inquiry. We will get back to you as soon as we can.
The Haven Jinja
The Haven Jinja
Rated as one of the best accommodations in Jinja region, The Haven is a peaceful and relaxed eco-friendly River Lodge. Enjoy the tranquil environment and the breath-taking view over the White Nile waterfall from this beautiful retreat. The fish eagle, otters, monitor lizards, monkeys and incredible bird species will accompany you during your stay. You can enjoy the delicious food from the spacious terrace overlooking the gently flowing river. Take a refreshing dive in the swimming pool or take your chance to dip in the Nile!
Jinja Town, the Adventure Town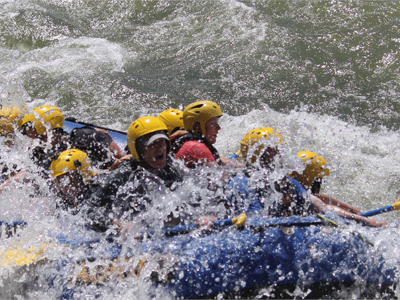 Jinja Town
Situated on the shores of Lake Victoria and at the Source of the Nile, Jinja is a picturesque town that is an ideal getaway from the hustle and bustle of the city. At 3986 feet above sea level, Jinja enjoys a pleasant climate all year long and is only 75km from the capital (Kampala) and 115km from Entebbe airport.
In it's hayday, Jinja was the manufacturing capitol of East Africa. Today, Jinja is a very well-designed town best described as "laid-back", "peaceful" and "tranquil" by its many international visitors. Jinja is quite simply the perfect getaway town.
Jinja is on the East African Highway which links Mombassa to Uganda, eastern DR Congo, Rwanda and Burundi.
Things of interest:
Source of the Nile. Although the actual experience of going here is not that interesting, it may be worth it for the sole reason that you can go home and tell everyone that you visited the source of the longest river in the world. There is a small monument in the area dedicated to Ghandi. Some of his ashes were released here.
Swaminarayan Temple.
The Jinja market is in the very centre of town, and consists of multiple acres of colourful shacks squeezed on top of each other selling everything from chicken hearts to motor parts. Definitely a must see, even if you're in Jinja for one day.
Jinja is marketed as the adventure capital of Uganda, offering everything from horse back tours to quad biking to placid kayak tours.
Kayak the Nile, also based at NRE, run kayak tours for the less adventurous, as well as guiding packages for those who want to learn the different channels down the river, and teach courses to learn to paddle on the lesser channels of the White Nile.
Quad Biking Horse riding Bungee Jumping
Adrift Rafting is a rafting company that also has the Nile High Club, where you can bungee jump over a picturesque edgy of the Nile, and even get your head wet if you so desire.
You can also get a free tour of the Nile Breweries if booked in advance.
---
Read more
