x
Thank you for submitting an inquiry. We will get back to you as soon as we can.
Kigambira Safari Lodge
Kigambira Safari Lodge
Kigambira Safari lodge is the newest mid-range accommodation situated in the heart of Lake Mburo national park in Kiruhura district, Uganda. The lodge got its name from lake Kigambira one of the lakes around Mburo national park and its close to Rubanga forest just 1 km . It takes approximately 4 hour and 27 minutes (235kmsquared) drive from kampala via masaka by road to lake mburo national park. The lodge is convenient and affordable to guests visiting the park with its panoramic views of lake kigambira and the park .
Kigambira safari lodge is comprised of 12 well designed and spacious rooms that reflects African traditional building style with grass thatched roof and local wood with modern comfort. Rooms are well decorated and furnished with private en suite facilities like flushing toilets, hot and cold showers/Bathtubs , mosquito nets, satelites, Flat screen TVs, extinguishers, hair driers, private balconies and sitting areas, you relax while enjoying the spectacular view of lake kigambira , the park and surrounding area. Rooms are equipped with comfortable clean bedding containing king and queen sized beds and wooden ceiling fun. There are campfires at the lodge that provides warmth to visitors staying.
Rooms are in different categories and sizes; single, double and triple rooms and rooms cost 200$ per night and above ( note that high season rate is different to low season rate.)
Kigambira safari lodge offers more services and facilities which include; A restaurant in the main building that serves different food both international and local meals that meets guests; Picnic breakfast,lunch and dinner served by well trained, friendly and organized staff, they also serve bush dinner, a well stocked bar with variety of drinks, local cocktail, wines, spirits and international beers, a swimming pool that cools off the hot afternoon of mburo, you relax and sip the cocktail or monktail while overlooking the breathtaking view of lake kigambira, the park and surrounding area, Free parking space available, Laundry services available, Wifi available at the lodge that enables visitors to keep in touch with their families and friends.
Lake mburo national park is found in western Uganda and its is the smallest savannah park in Uganda covering an area of 260 square kilometers and the park has got a magnificent varying elevation which is between 1220 m-1828 m above sea level. The park is situated conveniently close to the highway Kampala Mbarara road. The park is about 30 kilometres (19 mi), by road, east Mbarara, the largest city in the sub-region. The park has a variety of animals such as antelopes Uganda kobs, zebra, hippopotamus, impala, warthog, common eland, African buffalo, jackal, African leopard, and over three hundred (350) bird species. The park has different accommodations ,; budget , midrange and luxury accommodation. The park has camp grounds and permanent facilities for visitors visiting the park. Lake Mburo National Park is a very special place every part of it is alive with variety, interest and colour. The park is surrounded by banyankole bahima ( pastoralists ) who rare large herd of long horned cattle .
They used to graze their cattle to the park until it was upgraded to national park. There are more activities to do while in lake Mburo national park which include; Game viewing in the park, you spot various animals like; zebras, impalas,ntelopes, warthogs and many more animals, boat cruise at lake mburo, Daytime and night horse safaris in lake mburo park, fishing at lake Mburo, bird watching since the park contains more different species of birds, nature walks, walking around kigambira loop, forest walk in rubanga forest ,community tours like visiting the bahima homes , traditional dances from local people and many more activities. Mburo safari lodge is convenient and friendly to luxury visitors visiting the park. Mburo rock gives a spectacular sunrise and they make bush fires on special events,lunch and dinner.
Lake Mburo National Park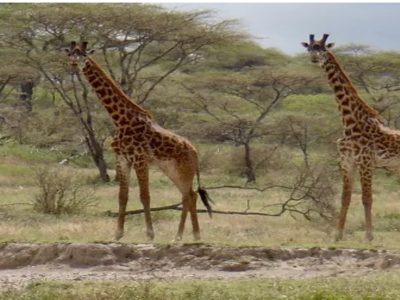 Lake Mburo National Park
Lake Mburo National Park covers an area of 370 sq km with diverse habitats that include forest, savannah, acacia woodland, rocky kopjes, seasonal and permanent swamps, five lakes inside the park (part of the bigger cluster of 14 lakes in total). It supports 315 bird species and 68 mammals. Very good for Eland, burchell's zebra, impala, buffalo, giraffes and leopard have recently been spotted in the park. There are no elephants. Good park for a guided safari walk with good UWA guides.
Activities in Lake Mburo
Walking Trails - The area is out standing for walking safaris, the terrain is easy going and you will be in the company of a good guide, a very productive option. Areas of particular interest are Rubanga Forest on the western side of Lake Mburo which is good for forest birds, the Rwonyo viewing plat form overlooking a salt lick.
Wildlife Safaris-Game drives
The park has a well developed network of roads for the wildlife safaris on the eastern side of the park. Game moves and congregates seasonally.
Boat trip on Lake Mburo
The jetty at Rwonyo is the starting point for a 2 hour boat ride on the Lake Mburo. On the boat ride can spot birds, hippos and game drawn to water's edge.
Horse riding Safaris
Fantastic routes through the park for horseback safaris are available organised by the Mihingo lodge. The best ride is the 4 to 5 hour long grassy Warukiri Range situated in the middle of the park with stunning 360 degree views of the surrounding hills and valleys in the park. At the end of this range is a water hole, which often attracts buffaloes and other animals combined with a magnificent view of 9 of the 12 lakes surrounding Lake Mburo National Park.
---
Read more
