x
Thank you for submitting an inquiry. We will get back to you as soon as we can.
Isunga Lodge
Isunga Lodge
Isunga lodge is a mid-range lodge situated on the boundary of Kibale Forest National park in the Western part of Uganda. It is about a 5hr drive from Kampala city and approximately 26km from Fort Portal town.
Isunga Lodge has got over 8 fabulous cottages that are widely spaced from each other for guests' privacy and serenity. There are single, double, triple and family cottages that sit on elevated points which offers great views of the beautiful rainforest, the savannahs of Queen Elizabeth and the Rwenzori Mountains (mountains of the moon). The en-suit cottages are well furnished with nice beds, mosquito nets, flush toilets, hot water Showers as well as solar power.
The lodge is well facilitated with an outstanding Restaurant (special dietary requests are as well catered for), a fully stocked Bar/Lounge, a Garden and a splash swimming pool. There is also a campfire where you can sit and relax under the stars and share your day stories as you listen to the primate roars, chirping birds from the Park.
Isunga Lodge offers free Wi-Fi to its guests, free ample parking space and coffee, Tea and purified drinking water at any time desired.
Activities to be expected include the crater lakes tour, chimpanzee trekking, Chimpanzee habituation experience, Nature walks, community tours by footing or bike cycling and many more activities.
Kibale Forest National Park, Chimpanzee park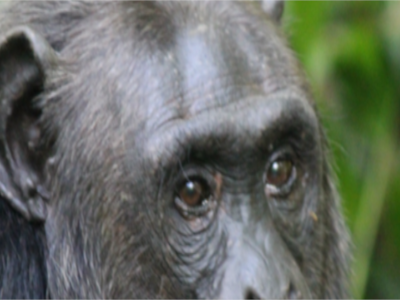 Kibale Forest National Park
Kibale Forest National Park contains one of the loveliest and most varied tracts of tropical forests in Uganda. Forest cover interspersed with patches of grassland and swamp, dominates the northern and central parts of the park elevated plateau. It covers an area of 795 square kilometres. The park is home to a total of 70 mammal species, most famously 13 species of primates including the Chimpanzees. It also contains over 375 bird species. Kibale adjoins Queen Elizabeth National Park to the south to create a 180 kn long corridor for wildlife between Ishasha, the remote southern sector of Queen Elizabeth National Park, and Sebitoli in the north of Kibale National Park.
The Kibale-Fort Portal area is one of Uganda's most rewarding destinations to visit. It lies close to the Ndali-Kasenda crater area and within half a day's drive to Queen Elizabeth, Rwenzori Mountains and Semuliki National Park as well as the Toro-Semliki Wildlife Reserve.
Kibale is one of Africa's foremost research sites. There are several research centres in the park like the Ngogo and Kanyawara research centres for chimpanzees. While many researchers focus on chimpanzees and other primates found in the park, others are investigating Kibale's Eco Systems, wild pigs and fish species among other topics.
Activities in Kibale Forest
Chimpanzee Tracking
Chimpanzee Tracking in Kibale Forest is the main activity. It lasts for 2 to 3 hours and start from Kanyanchu interpretation centre at 8:00 and 15:00 hours daily. Success rates are 90%. The tracking is easy going by comparison with the Kyambura gorge or even Mahale, definitely it is a lot easier than Gorilla Trekking.
Chimpanzee Habituation Experience
In addition to the short chimp treks, full day chimpanzee habituation experiences is available for about US$250. This entails most of the day's tracking with researchers and habituators from about 5:30 am to 19:00 hours when the chimps got to sleep. This activity though is only available on selected month of March, April, May and November. This is exceptionally good value for people with a real interest for chimps and the forest!
In addition to chimps, Kibale Forest is home to the following Primates; dwarf bush baby, easter needle bush baby, bosman's potto, dwarf galago, black and white colobus, red colobus monkey, red-tailed guenon, lhoesti or mountain guenon, vervet monkey, grey cheeked mangabey and olive baboon.
Night Walks in the forest - Start at Kanyanchu and run from 20:00 - 22:00 hours, aimed at sighting nocturnal primates especially potto and bush baby.
Bigodi Wetland Sanctuary
This is a community run initiative that protects the Magombe swamp. It is good for primates and butterflies but the 4.5 km trail is one of the best guided bird trails in East Africa. Local guides are especially good, keen birders. The swamp is home to 138 bird species.
Ndali - Kasenda Crater Lakes
Western Uganda from Albertine Rift to Rwenzoris and Virunga mountains has one of the world's densest concentration of volcanic crater lakes. There are 4 main groups of these crater lakes: Crater lake in kibale Kasenda cluster west of Kibale, Katwe cluster not far from Mweya Lodge in Queen Elizabeth NP; Fortportal cluster to the north and Bunyaruguru cluster south East of Queen Elizabeth NP.
The Kasenda cluster is the most extensive and easily accessible from Kibale. These lakes offer lots of possibilities for exploration with verdant bush, great landscapes and lots of birds and butterflies and other wildlife. Ndali lodge is probably the best spot from which to explore the lakes and surroundings.
---
Read more
