x
Thank you for submitting an inquiry. We will get back to you as soon as we can.

Crater Safari Lodge Kibale Forest National Park
Crater Safari Lodge Kibale National Park
Crater safari lodge is a luxurious Uganda safari accommodation located few minute drive from the lush green tropical rainforest of Kibale National Park, offering incomparable luxury, breathtaking scenery. It also lies on the banks of the Nyinabulitwa Crater Lake and blending with its rewarding surrounding landscape
However, the lodge consists of nine ultra-luxurious double /twin cottages and two large cottages each with two room to sleep up to four. Its family cottages are worth a place of stay with larger groups or families. All the cottages offer en-suite bathrooms with hot and cold running water and solar lighting, free Wi-Fi, individually designed furniture plus scenic scenery around Lake Nyinabulitwa.
Furthermore, the lodge features with a restaurant, an outdoor pool and lounge, free continental breakfast, free Wi-Fi in public areas and free self-parking provided.
Crater safari lodge offers 20 accommodations with easy access via exterior corridor and features with safes and complimentary bottled water. Rooms open to furnished patios. The bathrooms are designed with bathrobes and complimentary toiletries and housekeepers
Crater safari lodge amenities include;
Free bottled water
Room services
Luggage storage
Daily housekeeping
Laundry facilities
Children's pool
24-hour front desk
Lounge services
Craft shop
Swimming pool
Babysitting services
Tea and coffee station at the main area
Swinging chairs for relaxation
Mobile spa facility
A restaurant
Free parking area.
The rooms are featured with a bathroom, shower, free toilets, toilet, mosquito nets, clothes rack, bathrobe, outdoor furniture, outdoor dining area, towels, linen plus bedside tables with lamps.
Plug points in room are type G ,3 prong square plugs.
Wake up service
Camp fire overlooking
Activities at Crater Safari Lodge provides ultimate base for exceptional wildlife and excursion to the local attractions such as Chimpanzee and wildlife safari , chimpanzee tracking, chimpanzee habituation experience, visit the tea plantation and guided nature walk at Bigodi Wetland.
The lodge has a perfect place for relaxing and a best staff who are accommodative and hospitable. It also has a great location with incredible view to the crater. Their rooms are kind big, well decorated and the bed comfortable, bathroom with full of details well cleaned.
Crater safari lodge was also designed with well pleasing swimming pool that gives amazing view of the crater.
The lodge has a beautiful garden where you can enjoy a special breast fast with crater view and spectacular of the nature while on visit.
They have professional chefs who prepares delicious meals and romantic dinner for your nice stay. Crater safari lodge is ultimate place to relax and enjoy the breathtaking views, fireside by night, hammock by day and convenient location for day trips to Kibale forest for chimpanzee tracking.
Crater Safari Lodge Kibale National Park
The lodge's cottages are located overlooking the lake with magnificent mountains behind it. Of which, their rooms are beautifully laid out, comfortable and spacious. Above all, the bathrooms are modern and have full size tub and plenty of hot water.
The lodge has set up fire place with plenty of seating where guests can be served with bottle of wine down of the fire and enjoy the fire under the African brightening start. It's such an amazing experience. Since the Kibale National park beautiful location to meet up with world's high population of chimpanzee and other 12 primate's specie hence making it a perfect starting point for your chimpanzee tracking experience or nature walk.
However, Crater safari lodge can be accessed by road from Kampala or Entebbe to Fort portal a beautiful town to the main lodge, approximately 5 to 6 hours. By air, you can fly with a domestic flight from Kajjansi airfield to Mweya airstrip. The travelling journey by road transport might be quite long but very scenic and spectacular if you keep your eyes wide open you will see even what you never expected to see on your Uganda Safaris Adventures
Kibale Forest National Park, Chimpanzee park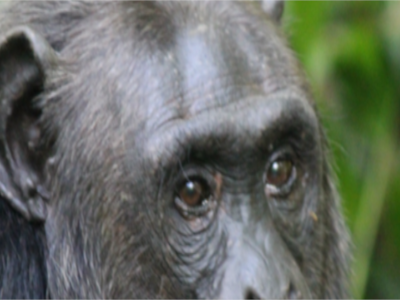 Kibale Forest National Park
Kibale Forest National Park contains one of the loveliest and most varied tracts of tropical forests in Uganda. Forest cover interspersed with patches of grassland and swamp, dominates the northern and central parts of the park elevated plateau. It covers an area of 795 square kilometres. The park is home to a total of 70 mammal species, most famously 13 species of primates including the Chimpanzees. It also contains over 375 bird species. Kibale adjoins Queen Elizabeth National Park to the south to create a 180 kn long corridor for wildlife between Ishasha, the remote southern sector of Queen Elizabeth National Park, and Sebitoli in the north of Kibale National Park.
The Kibale-Fort Portal area is one of Uganda's most rewarding destinations to visit. It lies close to the Ndali-Kasenda crater area and within half a day's drive to Queen Elizabeth, Rwenzori Mountains and Semuliki National Park as well as the Toro-Semliki Wildlife Reserve.
Kibale is one of Africa's foremost research sites. There are several research centres in the park like the Ngogo and Kanyawara research centres for chimpanzees. While many researchers focus on chimpanzees and other primates found in the park, others are investigating Kibale's Eco Systems, wild pigs and fish species among other topics.
Activities in Kibale Forest
Chimpanzee Tracking
Chimpanzee Tracking in Kibale Forest is the main activity. It lasts for 2 to 3 hours and start from Kanyanchu interpretation centre at 8:00 and 15:00 hours daily. Success rates are 90%. The tracking is easy going by comparison with the Kyambura gorge or even Mahale, definitely it is a lot easier than Gorilla Trekking.
Chimpanzee Habituation Experience
In addition to the short chimp treks, full day chimpanzee habituation experiences is available for about US$250. This entails most of the day's tracking with researchers and habituators from about 5:30 am to 19:00 hours when the chimps got to sleep. This activity though is only available on selected month of March, April, May and November. This is exceptionally good value for people with a real interest for chimps and the forest!
In addition to chimps, Kibale Forest is home to the following Primates; dwarf bush baby, easter needle bush baby, bosman's potto, dwarf galago, black and white colobus, red colobus monkey, red-tailed guenon, lhoesti or mountain guenon, vervet monkey, grey cheeked mangabey and olive baboon.
Night Walks in the forest - Start at Kanyanchu and run from 20:00 - 22:00 hours, aimed at sighting nocturnal primates especially potto and bush baby.
Bigodi Wetland Sanctuary
This is a community run initiative that protects the Magombe swamp. It is good for primates and butterflies but the 4.5 km trail is one of the best guided bird trails in East Africa. Local guides are especially good, keen birders. The swamp is home to 138 bird species.
Ndali - Kasenda Crater Lakes
Western Uganda from Albertine Rift to Rwenzoris and Virunga mountains has one of the world's densest concentration of volcanic crater lakes. There are 4 main groups of these crater lakes: Crater lake in kibale Kasenda cluster west of Kibale, Katwe cluster not far from Mweya Lodge in Queen Elizabeth NP; Fortportal cluster to the north and Bunyaruguru cluster south East of Queen Elizabeth NP.
The Kasenda cluster is the most extensive and easily accessible from Kibale. These lakes offer lots of possibilities for exploration with verdant bush, great landscapes and lots of birds and butterflies and other wildlife. Ndali lodge is probably the best spot from which to explore the lakes and surroundings.
---
Read more
