x
Thank you for submitting an inquiry. We will get back to you as soon as we can.
BAKIGA LODGE
BAKIGA LODGE
Bakiga lodge is a lodge located in Ruhija sector of Bwindi impenetrable national park just about 5 minutes' drive to Ruhija gorilla trekking start point. Bakiga lodge is built on top of the valley overlooking Bwindi Impenetrable national park. The trained staff and management aim at making your stay memorable and enjoyable with the nice meals and great services.
Bakiga lodge is anon profit tented lodge belonging to a community project licensed as NGO in Uganda and charity organization in UK. It assists communities across Kigezi region to obtain safe water with the profits it makes. The lodge was built using local materials from the neighboring villages so its eco-friendly. For visitors wanting a real African feel and comfort in the jungle this is the perfect place for you.
Bakiga lodge rooms
Bakiga lodge offers 10 spacious tents that are all self-contained with en suite bathroom, private balconies that offer great views of the forest. These tents are protected with iron sheets to protect them from rains. The lodge uses solar power and rain water collected into the built tanks for showers, flushing, washing and cleaning the lodge. The lodge has more than 8 rain water tanks that are built at the facility. Afire is lit every evening in the lounge to keep visitors warm from the cold evenings, free Wi-Fi is available. There is also a restaurant that serves all types of meals using the locally produced foods and a well-stocked bar where visitors can get all beverages. Hot coffee and tea are provided all through the day. The steep grounds are terraced and planted with trees to avoid soil erosion.
Many activities can be done while staying at this Kiga lodge which include gorilla tracking, bird watching, community walks, cultural visits, cultural dance performances, hiking and many more. Staying at bakiga lodge doesn't only provide you with comfortable accommodation but also impacts on the local communities.
Bwindi Impenetrable National Park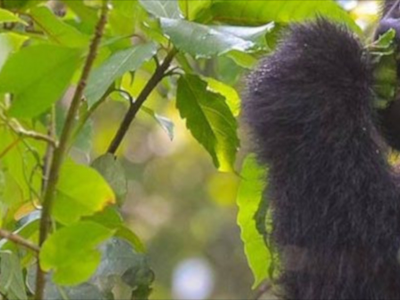 Bwindi Impenetrable National Park
Situated in the southwestern part of Uganda, Bwindi Impenetrable Forest National Park is remarkably one of the most spectacular and most sought after protected area in Africa and the world at large due to its incredible biodiversity. This park lies at the rim of the western rift valley covering an area of about 331 square kilometers and surrounded by Kisoro, Rukungiri and Kabale districts. It features among the very few protected areas in African continent that thrived throughout the last ice age and stands between altitude 1160 meters in Ishasha gorge and 2607 meters at Rwamunyonyi peak.
Bwindi National Park receives an annual average temperature range of 7 to 20 degrees Celsius with its coldest period falling between June and July while heavy rains are experienced from March to May and from mid October to November. The park was established in 1992 mainly to offer refuge to over 400 individuals of endangered mountain gorillas that thrive within its thick jungles and represent approximately half of all the individuals that thrive in the world today.
This stunning conservation area is also proud of its unique mammal species that make up a total of around 120 including the 11 primate especially the black and white colobus monkeys, chimpanzees, blue monkeys, red tailed monkeys, olive baboons; 27 frog species, 30 elephants, and not to forget its over 360 bird-life, 23 of which are highly localized Albertine rift endemics and 14 of them can't be spotted any part of the country (the notable birds include the African green broadbill, brown necked parrot, white tailed blue flycatcher and frazers eagle owl); 324 distinct species of trees with about 10 of them that you won't get anywhere in Uganda (its afro montane forest features thick under storey of vines, shrubs, and ferns), 200 butterflies with 8 of them that are endemic to the Albertine rift and others. The park is surrounded by tribes like the Bakiga, the Bafumbira and a few marginalized Batwa pygmies.
What to do in Bwindi Impenetrable Forest National Park
Gorilla Trekking in Bwindi Forest National Park
Mountain gorilla adventures feature among the main highlight for most safaris in Bwindi National Park. About 400 individuals of these rare primates thrive within the jungles of Bwindi and there are over 14 gorilla families that have been habituated for visitors to track each day. These include the Mubare family that features as the oldest group in the Bwindi and the first to be officially opened for visitation by tourists. Others include Habinyanja, Rushegura, Nkuringo, Nshongi, Kahungye, Busingye, Bitukura, Oruzogo, Bweza, Mishaya, Mukiza, Kyaguriro and others.
For lifetime experiences with these apes, there are 4 main tracking trails where the usual treks start from and they include Buhoma, Rushaga, Nkuringo and Ruhija sector. One habituated gorilla family is assigned to only 8 visitors to track each day and gorilla trekking permits cost $700 per visitor. Due to high demand, you are required to book for your permit in advance to avoid any kind of disappointment.
Birding in Bwindi Forest National Park
With over 360 bird species, Bwindi Impenetrable Forest National Park is undeniably one of the birders paradises that shouldn't miss out in your bucket list. While on your birding adventure, you will have a chance to spot out most of the bird species like the African green broadbill, yellow eyed black fly catcher, short tailed warbler, rusty faced woodland warbler, bar tailed trogon, wilcock's honey guide, Gruer's rush warbler, dusky crimson wing, kivu ground thrush, white tailed blue monarch and many more. For bird lovers, never forget to come with your camera and binocular.
Nature walks
This is another most remarkable safari activity that shouldn't miss out in your bucket list. Bwindi National Park features a number of hiking trails and each of them rewards visitors with rare tourist attractions. Visitors on nature walk along the park have opportunity to spot out most the primates, birds, butterflies, tree species and others. Hiking adventures in Bwindi take visitors through the River Munyanga walk, Rushura walk, the bamboo trail walk, Ivy River walk, Muzabajiro trail, Ruizi river trail and others.
Cultural encounters
After your breathtaking mountain gorilla adventure, you can embark on cultural encounters in the nearest local communities to enjoy the most thrilling traditional and cultural performances that will be presented by women's group especially by the Batwa pygmies.
Getting to Bwindi Impenetrable National Park
Bwindi National Park is accessible both by road and by air.
By road, visitors can spend about 9-10 hours while driving from Kampala city centre or Entebbe Airport. From Kampala to Kabale you will drive for a distance of about 414 kilometers approximately 6 t0 7 hours drive and then you drive for about 120 kilometers from Kabale to Buhoma park headquarters through Kanungu and Kanyantoroogo on murram road which takes you nearly 3 to 4 hours. Due to the kind of the roads, you will need a 4×4 vehicle.
From Kabale to Ruhija to Buhoma, you will drive for a distance of 95 kilometers approximately 3 to 4 hours drive.
By air, you can fly from Entebbe International Airport or Kajjansi Airstrip to Kisoro airfield or Kihihi airstrip and then connect by road up to the park. Aerolink Uganda has daily scheduled flights from Entebbe to Bwindi Gorilla Park.
Where to stay in Bwindi Impenetrable Forest National Park
There are numerous lodging facilities for you to choose to spend a night while on safari in Bwindi Impenetrable Forest National Park. They include; Volcanoes Bwindi Lodge, Mahogany Springs, Buhoma Lodge. Silverback Lodge, The Haven Community lodge, Chameleon Hill Lodge, Gorilla Forest Camp, Lake Mulehe Gorilla Lodge, Kiho Gorilla Lodge, Engagi Lodge, Buhoma Community Rest Camp, Bakiga Lodge, Broadbill Forest camp and others.
Best Time to visit Bwindi Impenetrable National Park
Whereas Bwindi Impenetrable Forest National Park is considered to be an all year round safari destination, intending visitors can best explore it during the dry season that takes place from June to September and from December to February. However, you can also pay a visit during the wet season which usually starts from March to May and October to November.
To most visitors, Bwindi Gorilla Park features a mystical forest that offers refuge to a number of the most exceptional natural wonders ranging from primates, avian species, plants, trees, reptiles to mammals all of which are worth exploring while you are on a safari in Uganda.
---
Read more
